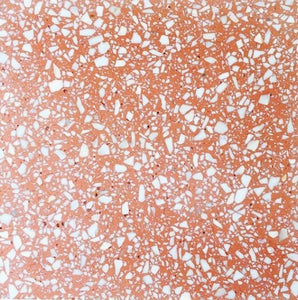 decorti terrazzo tiles
Terrazzo 10
Regular price
£130.00
£0.00
Terrazzo tiles involve marble, granite, basalt, cement and oxide colours (if it is necessary) and this product is esthetical, economic and resisting. Terrazzo tiles are concrete slabs that producted by using steam curing with full automation.
Water in blend is absorbed gradually under high pressure by using special filtration system and suitable vibration, unlike classical two layered tile production system. With this system, cement/water ratio become minimize and our products gain high strength. With gradual high pressure, gaps between aggregate particles are removed and our products get denser as a natural stone. Consequently, there is no need to use second surface material for Terrazzo Tiles unlike classical tile productions.
Terrazzo Tiles can be producted as polished, brushed, sandblasted and bush hammered optionally.
Total minimum order quantity required to checkout15 m2 
Available in 4-5 weeks. 
Free Delivery
Size 20cm x 20cm x 1.8cm 
---
Share this Product
---
More from this collection